Join Us at KazooCon 2023: The Ultimate Communication and Collaboration Experience!

Welcome to Xarios' dedicated page for KazooCon 2023! We are thrilled to announce our participation as a visiting and presenting partner at this year's premier event for communication and collaboration enthusiasts.
About KazooCon
KazooCon is the industry-leading conference that brings together thought leaders, innovators, and professionals from the world of communication and collaboration technology. With a focus on cutting-edge solutions and industry trends, KazooCon is a must-attend event for anyone looking to stay at the forefront of the rapidly evolving landscape of unified communications.
Our Commitment to Innovation
At Xarios, we share KazooCon's dedication to pushing the boundaries of what's possible in communication and collaboration technology. As a visiting and presenting partner, we are excited to showcase our latest innovations, thought leadership, and solutions that are poised to revolutionize the way businesses communicate.
Presentation Highlights
Join us for an insightful presentation at KazooCon 2023. We will be focusing on the following key area:
Tagging Along: Client Insight for Analytics Clarity
Discover how our powerful call tagging feature is designed to drive productivity, gain valuable insights, and enhance customer service. We'll delve into the details of performance tracking, call categorisation, post-call surveys, and the benefits of incorporating our technology into your workflow.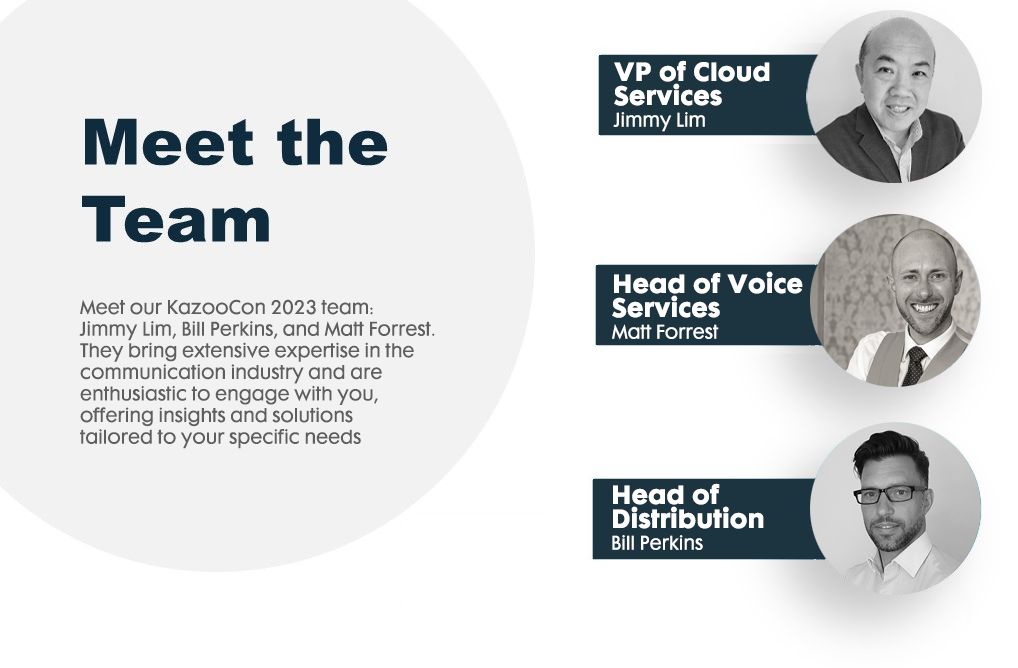 We're excited to introduce the members of our team, Jimmy Lim, Bill Perkins & Matt Forrest, who will be at KazooCon 2023. They bring a wealth of knowledge and experience in all aspects of the communication industry, and they're eager to connect with you to discuss your unique challenges and opportunities.
Networking Opportunities
KazooCon is not only about learning and presentations, but it's also a platform for networking and building meaningful connections. Visit our booth to meet our team, explore our solutions, and engage in insightful discussions about the future of communication and collaboration.
Visit Our Table
Be sure to stop by our booth at KazooCon 2023. We'll be showcasing our latest products, demonstrating live demos, and providing valuable insights on how our solutions can benefit your organization.
Contact Us
For any inquiries or to schedule a one-on-one meeting with our team, please reach out to [email protected]
We look forward to meeting you at KazooCon 2023 and together, shaping the future of communication and collaboration!