Your Dashboard, Your Way.  Cloud communications have never been so visible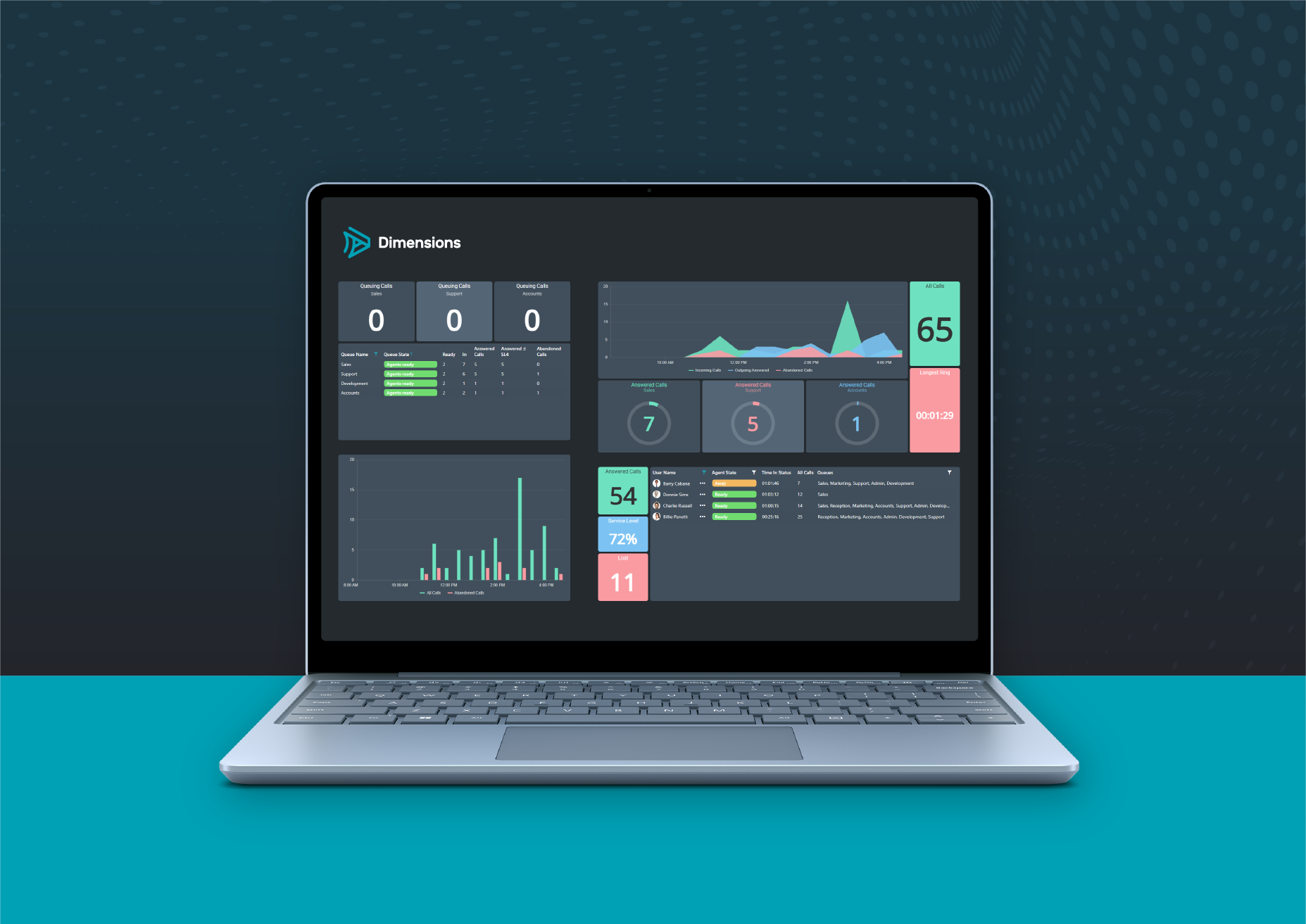 In today's fast-paced business environment, effective call center management is crucial for ensuring efficient operations and delivering top-notch customer experiences. Xarios Technologies, a leading provider of innovative communication solutions, is proud to announce the release of Dimensions Dashboard. This powerful tool empowers supervisors to stay in control, make informed decisions, and streamline their call center operations, whether their agents are working remotely or in the office.
Real-Time Visibility and Efficient Management:
Dimensions Dashboard provides supervisors with real-time visibility into their call center operations, allowing them to effectively manage their agents and queues. Whether it's for managing comfort breaks, lunch breaks, school runs, or meetings, supervisors can effortlessly track their staff's whereabouts and performance. With a simple glance at the dashboard, supervisors can immediately see where agents are available and identify any queues that may be building up, enabling efficient management and proactive decision-making.
Flexible Agent Allocation and Seamless Customer Experience:
Agents can be easily moved in and out of queues and logged in and out as required, ensuring optimal utilization of resources and enhancing the customer experience. Supervisors have complete control over agent allocation, ensuring that the right agents are handling the right tasks at the right time. This flexibility not only boosts agent productivity but also ensures a consistent and high-quality customer service experience.
Powerful Queue Grid with Traffic Light System:
The Queue Grid feature in Dimensions Dashboard employs a traffic light system to clearly display the status of active queues. With a quick glance, supervisors can identify which queues are ready for calls, how many agents are available in each queue, and which queues are experiencing high activity. This visual representation allows supervisors to make quick decisions and efficiently allocate resources to meet customer demands.
Efficient Handling of Unreturned Abandoned Calls:
Missed opportunities and poor customer service experiences due to abandoned calls can have a significant impact on a business. Dimensions Dashboard includes a comprehensive grid for Unreturned Abandoned Calls (UACs), ensuring that no call goes unanswered. This dynamic grid automatically updates, removing numbers once they have received a call back or have called back themselves. Supervisors can easily identify customers who require immediate attention, leading to the recapture of potentially lost business and improved customer satisfaction.
Proactive Alerts and Notifications:
Dimensions Dashboard goes beyond real-time visibility and offers proactive alerts and notifications to supervisors. The dashboard alerts supervisors when the quantity of calls breaches a threshold or when wait times exceed a specified length. These timely notifications enable supervisors to take swift action, ensuring that customer service levels are maintained and any potential issues are addressed promptly. Additionally, supervisors are notified if an agent's wrap-up or away status surpasses the expected length, allowing them to prioritize agent well-being and overall efficiency.
Conclusion:
With the release of Dimensions Dashboard, Xarios Technologies is revolutionizing call center management. The comprehensive features and intuitive interface provide supervisors with real-time visibility, flexible agent allocation, and proactive decision-making capabilities. By leveraging this powerful tool, call center supervisors can optimize their operations, improve customer experiences, and drive business success.
Download Newsletter