Unlock the Power of Integrated Telephony with Clio CRM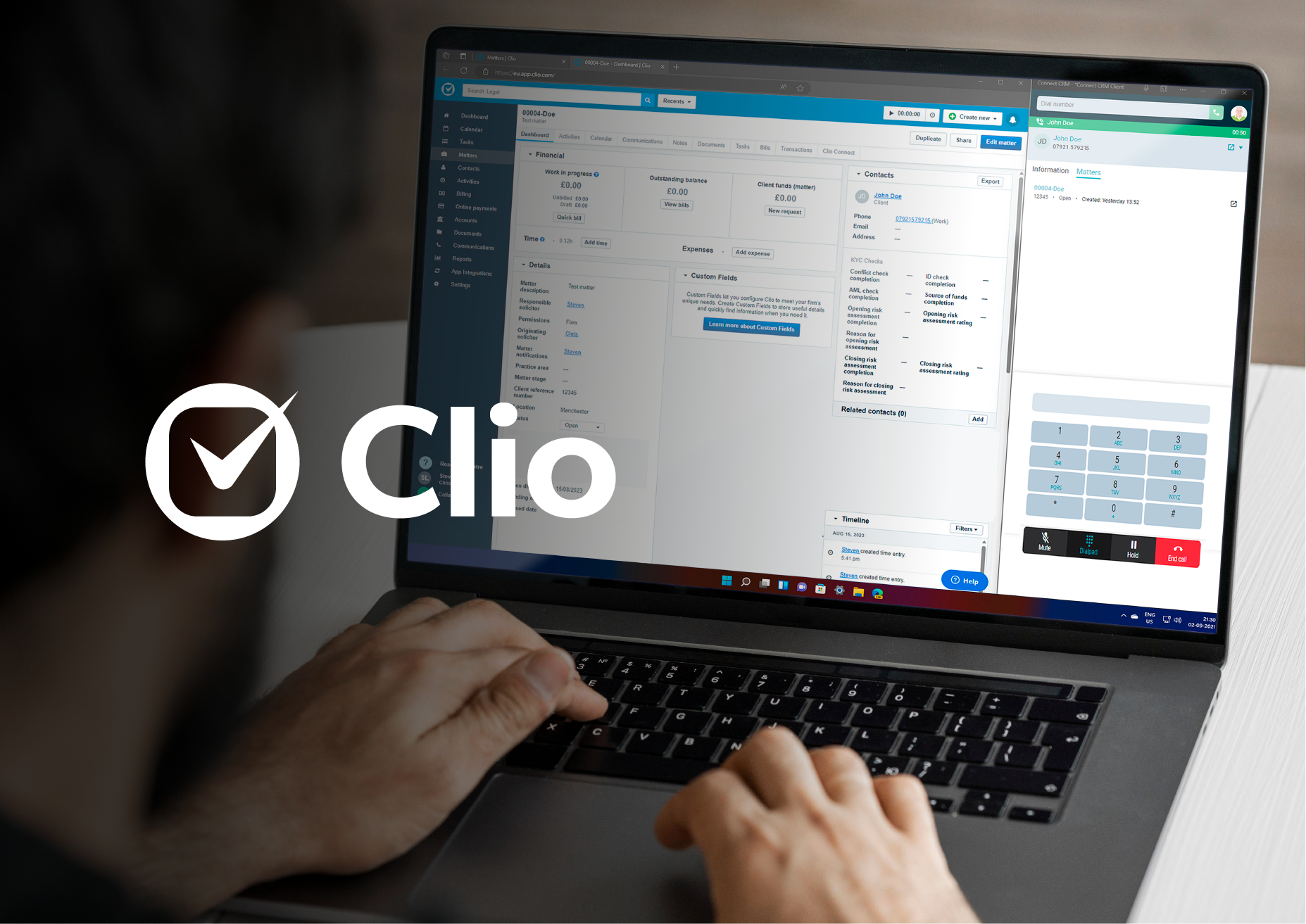 At Xarios Technologies, we are thrilled to introduce our latest release update for September, featuring the game-changing integration of Clio CRM with our state-of-the-art softphone, Connect CRM. This integration is set to revolutionize the way law firms manage their practices, offering unparalleled benefits for enhanced operations.
Connect CRM: More Than Just a Softphone
Connect CRM isn't your average softphone; it serves as a bridge that seamlessly connects your law practice and your clients. By integrating with Clio Practice Management, law firms can unlock a host of advantages that will take their operations to the next level.
Here's a glimpse of what Connect CRM can do for your practice:
Screen Popping: Instantly view client records when a call comes in, ensuring you're always prepared for important conversations.
Call History: Easily access the call history associated with client records, helping you maintain a comprehensive overview of interactions.
Click to Dial: Initiate calls directly from client records with a simple click, streamlining your workflow.
Automated Logging: Say goodbye to manual data entry. Connect CRM automatically logs all telephone calls against client records.
Embark on this transformative journey today and elevate your practice with the power of Dimensions Connect CRM, seamlessly integrated into Clio Practice Management software.
Unreturned Lost Calls: Don't Let Opportunities Slip Away
Missed calls can mean missed opportunities, including revenue, customer engagement, and loyalty. With Dimensions Analytics, our solution offers tools to ensure your lost calls never remain lost. Here's how it can benefit your firm:
Total Visibility: Clearly differentiate between missed and unreturned calls, minimizing unnecessary callback efforts.
Instant Availability: Stay up to date with real-time visibility of unreturned calls on a dedicated grid, ensuring no important calls slip through the cracks.
Real-Time Interaction: Click to dial directly from the unreturned calls grid tile, enabling instant connections with potential clients.
Don't let unreturned calls cost you valuable opportunities. Dimensions Analytics empowers you to enhance your communication systems and maximize interactions.
With Xarios Technologies, you can enhance tomorrow's conversations and transform your practice management experience. To learn more about our integrated telephony solutions and how they can benefit your law firm, visit our website today at www.xarios.com.
Download Newsletter